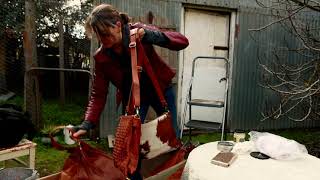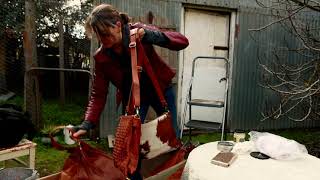 A morning in the studio...
This video show a typical morning in the Sunshine Barossa Australia 'studio'. The product images for the website are photographed against an antique door because it is beautifully rustic and surrounded by the inspiration of Mother Nature! Each week that I step into the Sunshine Barossa Australia studio, Carol enthusiastically comments, 'look at what we've got today!' I am continually impressed by the range, the clever designing that is very practical and considered down to ev
Barossa Artisans Collaborate!
When talented Barossa Artisans collaborate, something beautiful must result. Recently at the Jam Factory, Seppeltsfield, it was a joy to be a spectator as Carol Dadds and Barry Gardner bumped creative heads to design a knife roll for Gardner Knives art pieces. Watch this space! #sunshinebarossaaustralia #gardnerknives #southaustralia #barossaartisans #beccphotos #seppeltsfield #jamfactorybarossa
Artisan by definition is a worker in a skilled trade, especially one that involves making things by hand. When it comes to gin, Black Cat Gin is the epitome of an artisan gin. Creators, scientists and genuine artisans, Diane and Steven, LOVE gin with a devotion that is both personal and professional. From growing the raw product right through to processing and distillation, their wine industry background presented the perfect opportunity to move to the 'other side of the ra